Broken Wand - Paul Daniels
Friday, 18 March 2016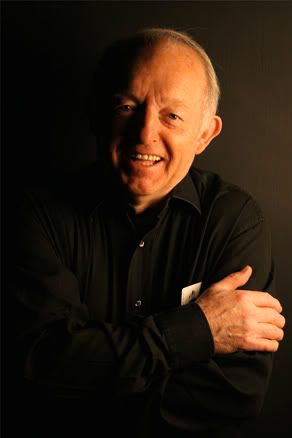 We're saddened to learn of the passing of the amazing Paul Daniels and we join the magic fraternity in sending our heartfelt condolences to the family & friends of the late great Paul Daniels.
Broken Wand - Dean Dean & Rene Lavand
Sunday, 08 February 2015
The magic fraternity is dealt with a double blow today to learn of the passing of 2 of greats of close up magic - magician and coin magic innovator Dean Dill and the amazing Rene Lavand.
The magic world owes much to both of them and the void left behind can never be filled. Rest In Peace and thank you.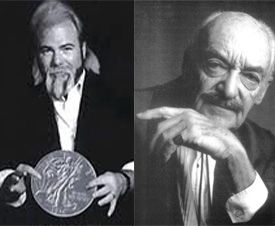 The Magic Annexe goes BOOM!
Tuesday, 18 March 2014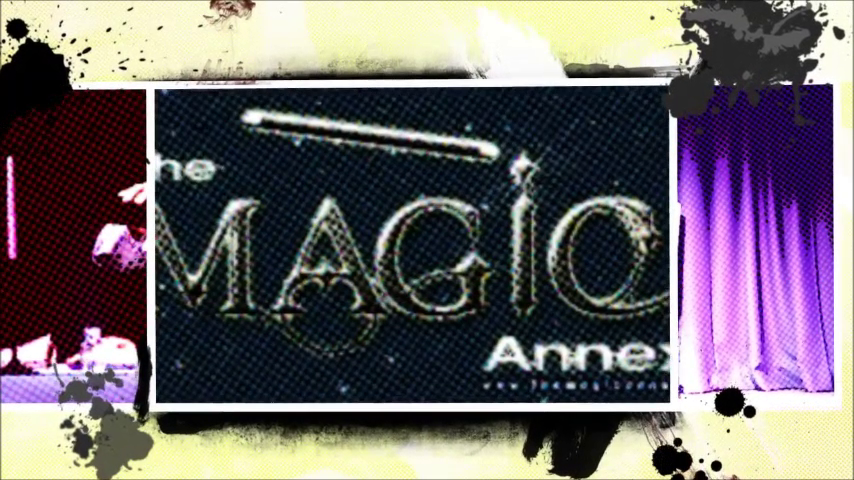 Click on the image above to watch the video

Broken Wand - Aldo Colombini
Thursday, 13 February 2014
We have just learned of the passing of Aldo Colombini from a Facebook post by his wife, Rachael Wild Colombini.
"It is with great sadness that I inform you all of the passing of my dear husband Aldo Colombini.
Sleep tight my angel !"
We would like to join the magic fraternity to offer our thoughts and prayers to Rachael in this time of grief.
R.I.P. Aldo. Thank you for sharing the magic with us.
Pictures from The Christmas Charity Carnival 2013
Thursday, 13 February 2014
The Magic Annexe was on hand to help raise funds during the Christmas Charity Carnival back in December 2013. We provided the entertainment to visitors, as well as opened a booth selling magic props and 10% of all proceeds were donated to charity.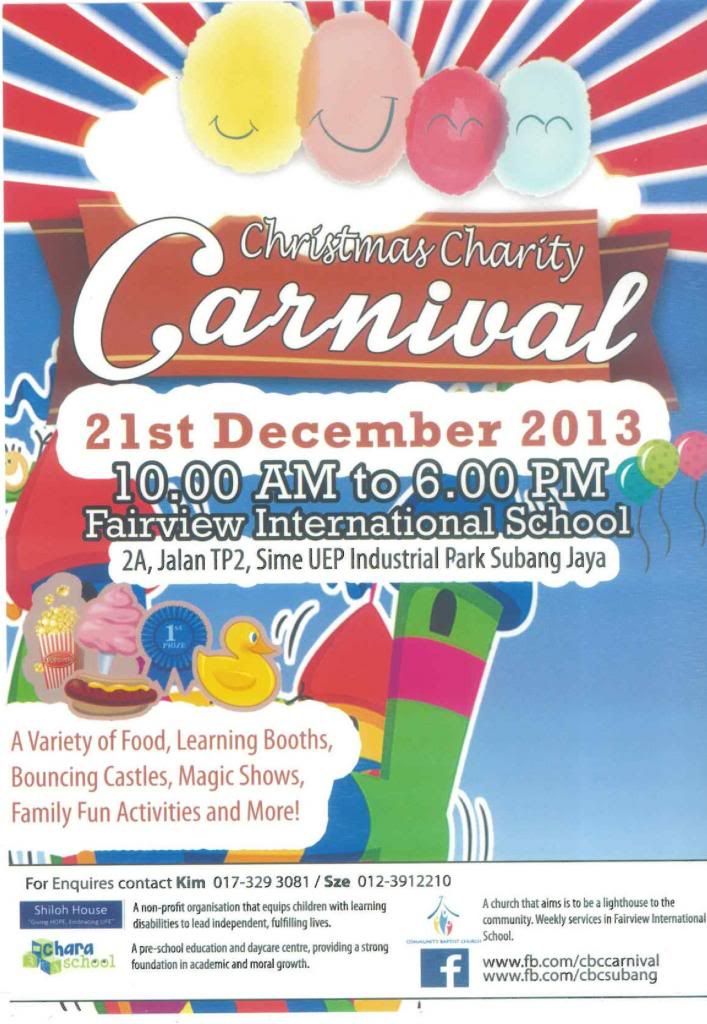 Read more...
In The Spotlight : David Lai
Wednesday, 20 March 2013
We managed to catch up with the very busy but talented man of many hats, Malaysia's own David Lai, mentalist, entrepreneur, magical show producer and also the director of Genting's Superstars of Magic! He shares with us a peek into the exciting world of a magic show producer & director. Ladies and gentlemen, we present to you In The Spotlight - David Lai !
Read more...
In The Spotlight : Anslem Roy Grilled on MAGIC Live!
Friday, 25 January 2013
MAGIC Live! was a collaborative effort between PJ Live Arts and The Magic Annexe, showcasing various forms of magic performances by both, up and coming amateur and professional magicians. Season 1 being over, we sat down with The Magic Annexe founder Anslem Roy to find out his thoughts on the entire run.
Read more...
Friday, 24 August 2012
Anslem Roy and Jonathan Lee from The Magic Annexe were guests on BFM 89.9's "I Love KL" episode on Saturday, 25th August 2012 where they talked about Magic Live and also the science behind magic.
Click on the BFM logo below to listen to the podcast of the interview :-

Magic Live - The Sun, August 16, 2012
Thursday, 16 August 2012
Magic Live ! The Magical Assembly was featured in the Sun daily today.
More Magic Live Coverage - The Star
Thursday, 28 June 2012
The Star, 27th June 2012.
Read the article HERE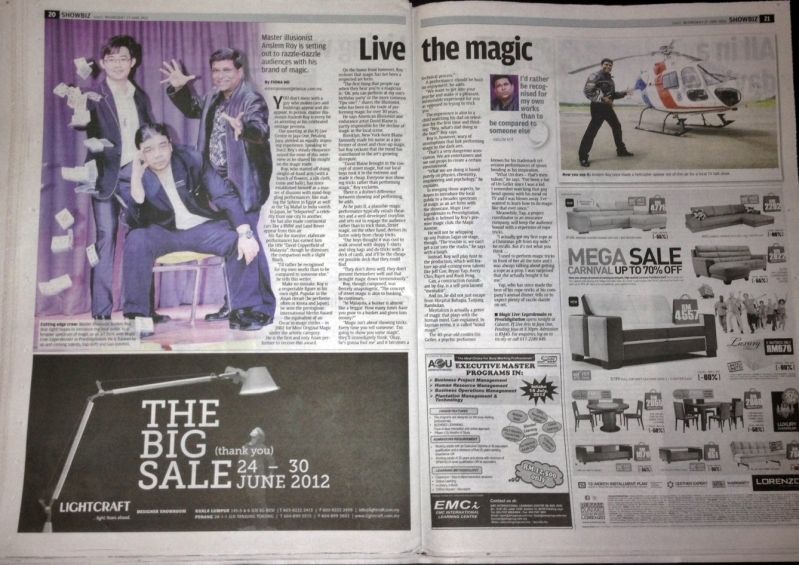 News Straits Times - June 11th, 2012
Monday, 11 June 2012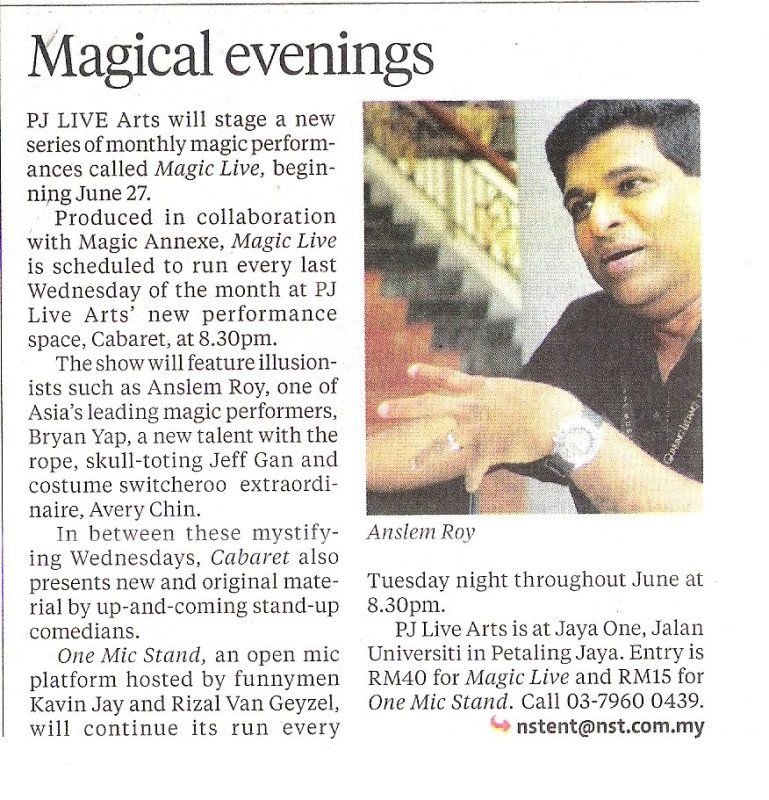 << Start
< Prev
1
2
Next >
End >>
Results 1 - 11 of 16